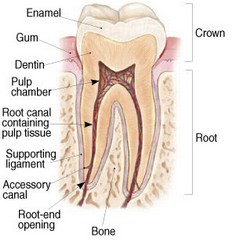 Endodontics is the specialty of dentistry that deals with diseases of the dental pulp and its supporting structures (bone and gum tissue).  The outermost layer of a tooth is the hardest tissue in the body and is called ENAMEL. Enamel is supported by a hard inner layer called DENTIN that contains soft PULP tissue in its central core.  Pulp tissue is composed of blood vessels, nerves, and connective tissue that actually made the surrounding hard dentin during tooth development.  Pulp tissue can become damaged or diseased for a variety of reasons.  Damaged pulp tissue can cause a variety of problems ranging from cold sensitivity to severe facial pain or an infectious abscess.  
The most common endodontic treatment is "root canal treatment" where the diseased pulp a tooth is carefully cleaned out of the tooth, eliminating the source of pain or infection, and allowing the tooth to be comfortably maintained. Although the pulp is important during development of the tooth, it is not essential for continued heath and function of the tooth after it has formed.  After endodontic treatment, the tooth continues to be nourished and maintained by the surrounding tissues.
Saddleback Valley Endodontics consists of several separate, individual professional corporations practicing
in a shared expense environment. Proudly serving Laguna Hills and surrounding Orange County since 1983.
OFFICE HOURS
Mondays - Fridays: 8 am - 5 pm.
Answering service available after hours
ADDRESS
25261 Paseo De Valencia, Suite 3
Laguna Hills, California, 92637